There is a growing awareness regarding how health affects our lives, bodies, families and now even our business and companies. Health insurance costs, absenteeism and productivity are now known to be directly linked to the health of each employee as well as the overall health and health encouragement of our corporate culture. Instilling Wellness Programs into our companies and corporate culture is dramatically affecting company bottom lines, productivity and overall morale.
As a Certified Health and Wellness Coach I deal with many factors involving an individual's health. I take a holistic approach with my clients and I want to know where they are being fed and nourished, as well as where they are being depleted, both nutritionally and in their mental/emotional life. Nutrition plays a role in all of this. However, after having coached hundreds of people to optimum health, there are a few basic principles and practices that work no matter who you are that apply to everyone. These are what I call, "The 5 Essentials of Health". They are essential because no one can go without them and still be at peak for long.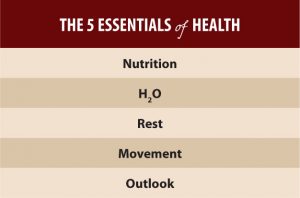 If we want to be optimally healthy, all of these factors must be addressed consistently. The essentials listed below are in no particular order because they are all of the highest importance.
Do not get overwhelmed if one or more of these are missing in your current lifestyle or your company culture. Take one at a time; master it and then move on to another one. Within a shorter amount of time than you think, they will all be effectively addressed.
Nutrition
Eat real whole foods as close to their natural form as possible. These include high quality proteins, fats and carbohydrates from animal and plant sources. (An apple is a whole food. A cupcake is a bundle of chemicals put together to trick your brain and body) Simply swapping out vending machines, afternoon snacks and heavily processed lunches to more quality options will increase afternoon productivity by leaps and bounds.
H2O
Our body is made up mostly of water. It would be wise to give it what it predominantly is. Therefore, quality filtered water on a daily basis is essential for optimum health. Encouraging employees to drink more water and develop better water drinking habits will improve sugar cravings, afternoon crashes and better energy than relying on soda, coffee and stimulants.
Rest
We have to prioritize sleep and rest. If the body doesn't get proper amounts of sleep or is overworked from stress, it won't have the energy to achieve and maintain balance. It will also begin to crave sugary and caffeinated foods to compensate for its lack of proper energy. A proper diet with poor sleep is counter-productive. Workload becomes very critical here. Properly utilizing company resources, breaks and more appropriately boundary workloads will make employees more effective in the projects that they are working on as opposed to having their energy diluted from repetitive multi-tasking.
Movement
Your body is always moving! Even when it is sleeping cells are rushing around creating all kinds of chemical reactions that are necessary for healthy function. We must move our body because it is designed that way. Each person's exercise is different. Whether that is a 30 minute walk each day or high intensity weight training, find what you enjoy and do it consistently. In corporate cultures, installing gyms or workout incentive compensations are becoming very common and keeping employees prioritizing their individual health.
Outlook
Nothing positive has ever come from a negative mindset. If you are conditioned to always see and experience what is missing and what you don't have, nothing you ever gain or achieve will change that. By resetting your mind to enjoy the process and journey of growth and change you literally alter the chemicals in your body from a stress state to an excited state. This will produce two entirely different outcomes. Building into your company a culture of positive leadership will be felt from top to bottom in your business.
Incorporating The 5 Essentials of Health into your personal and business lifestyle will make a tremendous difference in your overall health, happiness and productivity. A blueprint of wellness will be felt by every member of your team. The path to improved productivity, culture and outlook will all be addressed through encouraging and prioritizing individual wellness.
[author] [author_image timthumb='on']https://sensenigcapital.com/wp-content/uploads/2015/03/desanti-feat.jpg[/author_image] [author_info]
Michael DeSanti
 has transformed his own health and now has a successful career helping others do the same. A 2010 graduate of the Health Coach Training Program, Michael left his grueling, unsatisfying career as a corporate event planner and launched a thriving health coaching practice, Authentic Self Healing, in Verona, New Jersey. Michael partners with Villani Chiropractic Center and sees an average of 20 clients a week, coaching them to improve their energy levels, lose weight, and become the best versions of themselves. For more information on his company 
click here.
[/author_info] [/author]