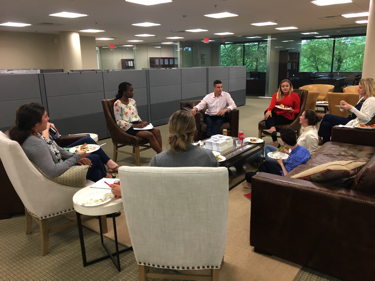 It's all too often we hear the words, "I should have started saving and investing earlier" or "if only someone told me to save for retirement sooner." At Sensenig Capital Advisors, we are doing our part to help the next generation start on the right track. Last month, Kurt W. Angstadt, CFP®, Senior Wealth Advisor had the opportunity to speak with young professionals at a boutique management consulting firm in Radnor, Pennsylvania about the topic of wealth management.
It was a great learning experience for everyone who participated. Discussion topics focused on the basics of investing, how to balance a checkbook, ins and outs of a home purchase, how a 401(k) works, and many other topics related to wealth management.
As a result of this learning experience, here are a few simple tips and reminders folks can follow at any age:
Have a general plan: Understand why you are saving money. Create a plan with a reasonable amount of money you would need in retirement, to buy a house, or to start your own business. Also, don't forget to check on your progress from time-to-time.
Save for emergencies & invest for the future: Savings are for emergencies and goals less than one year away. Investing is for everything else. Match your risk profile with your time horizon.
Develop an investment plan: Create a plan before you invest and stick with it. Doing so minimizes the chance of acting on your emotions, which is generally counter to long-term investment success. Consider utilizing a diversified, global portfolio using low-cost funds and ignore the short-term market moves and news pundits.
Know where it goes: No need to budget for every single cent but have a running balance sheet which forms your net worth. If your net worth is going in the wrong direction, go back and evaluate and understand where your money is going.
Nothing is guaranteed: You hear this statement all the time but it's so true. Be wary of any illustration or lock in period with any financial product. Chances are you are paying for that "guarantee." Instead, consider working with an independent, fee-only, Certified Financial Planner (CFP®) who operates as a fiduciary to you as a client.
These are a few high-level and simple themes to keep in mind when thinking about your investment and financial landscape. Please contact our firm to discuss these concepts or to learn more about our services at info@sensenigcapital.com or 610-584-9700.