At its January 2015 board meeting, Jeremy Brenn was named to the Finance Committee of Lower Providence Township in Eagelville, PA. "I have a long family history of local public service and am pleased to be given the opportunity to serve in my community", stated Brenn.
About Lower Providence Township
Located in south central Montgomery County, Pennsylvania, Lower Providence Township reflects a unique mix of history and progress. Lower Providence Township encompasses 14.77 square miles, which includes the geographic areas of Audubon, Collegeville, Trooper, Eagleville, Yerkes, and Evansburg. From these villages has grown a community joined in a commitment to provide a safe, productive and prosperous environment in which to reside, raise a family and conduct business.
About Jeremy Brenn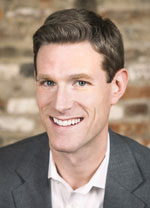 As Vice President, Jeremy Brenn is responsible for many of the firm's client relationships, as well as managing the strategic direction and wealth management process for Sensenig Capital. Jeremy earned his Bachelor of Arts degree from York College of Pennsylvania, as well as his Master of Business Administration in Finance from Hood College, Frederick, MD.
Jeremy is an active member of the Financial Planning Association, as well as the National Association on Personal Financial Advisors. He also holds the distinguished CERTIFIED FINANCIAL PLANNER™ professional designation. He has been quoted in the Philadelphia Inquirer and other personal finance related sources.
In addition, Jeremy currently serves on the Board of Directors at Meadowood Senior Living, the Board of Trustees at Central Schwenkfelder Church, and the Finance Committee of Lower Providence Township. He lives in Montgomery County with his wife and three sons.