Our fees are priced to be a good value. Because we run our business efficiently, we're able to pass our cost savings onto you.
Fee-only Wealth Management
Sensenig Capital charges a percentage fee for ongoing wealth management services. We work with clients at every asset level to determine how we can be of most value. At Sensenig Capital we run our business efficiently, so we're able to pass our cost savings on to you. Our ongoing percentage fee is shown in the table to the right.
Ongoing Wealth Management Services
Our ongoing wealth management service includes a combination of financial planning and investment management, is designed to pay for itself over time, and is a great solution for folks who are seeking continuous financial guidance from qualified professionals.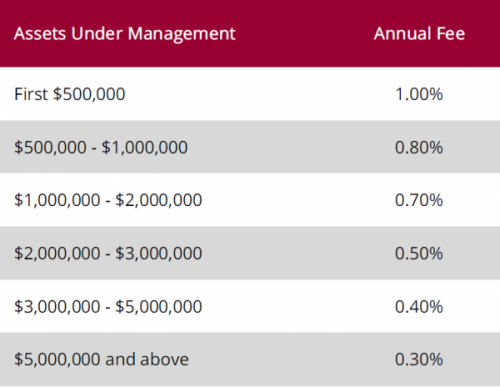 Company Retirement Plans – 401(k) and More
Sensenig Capital provides support for 401(k), profit sharing, cash balance and defined benefit programs. Fees to consider include administrative, investment and plan consulting fees. Together, they represent the total plan cost. Administrative and plan consulting fees may be paid by the plan sponsor or participant; investment fees are always paid by participants (deducted from plan assets).
Several key factors can impact plan pricing. The larger the plan (in terms of assets), the lower the plan sponsor out-of-pocket (per participant) costs. On average, our consulting fee on 401(k) plans usually ranges from 0.25% – 0.50%.
Other factors to consider include;
Number of plan participants
Average account balance
Service requirements
Plan design features
Sensenig Capital Advisors – Fee-Only Wealth Management – Philadelphia, PA, King of Prussia, PA, Collegeville, PA | This website ("SCA website") is a service of Sensenig Capital Advisors, Inc. ("SCA"). By accessing SCA's website, you agree to the following terms and conditions: Information on the SCA website is solely offered to, and solely intended for use by citizens of the United States. While SCA uses reasonable efforts to obtain information from sources which it believes to be reliable, SCA makes no representation that the information or opinions contained on the SCA website is accurate, reliable, or complete. The information and opinions contained in the SCA website are provided by SCA for personal use and informational purposes only and are subject to change without notice.The SCA website is limited to the dissemination of general information about SCA's service offerings, and provides an alternative method for prospective clients to learn more about SCA, and to contact SCA. Nothing contained on the SCA website constitutes personalized investment, financial, legal, tax or other advice, nor is to be relied on in making an investment or other decision. Moreover, nothing on the SCA website should be construed as a solicitation or offer, or recommendation, to acquire or dispose of any investment or to engage in any other transaction for compensation. SCA does not render or offer to render personalized investment advice or financial planning advice through the SCA website.SCA's specific, individualized advice is given only within the context of our contractual agreements with each client. Advice may only be rendered after the delivery of Form ADV-Part 2, the execution of a wealth management and/or consulting agreement by the client and the advisor, and the initial payment of the planning fee or investment advisory fee by the client to the advisor. SCA is registered as an Investment Adviser with the Pennsylvania Department of Banking and Securities. SCA may only transact business in the Commonwealth of Pennsylvania or in any other state if first registered, excluded or exempted from state registration requirements under the applicable state law or regulation where the client resides. Consistent with applicable laws and SCA's policies and procedures, any follow-up, direct and individualized communication by SCA's representatives with a client or prospective client that involves effecting or attempting to effect transactions in securities, or rendering personalized investment advice for compensation shall only be conducted by a representative who is either registered or qualifies for an exemption or exclusion from registration in the state where the client or prospective client resides.  copy of SCA's Form ADV-Part 2 is provided to all clients and prospective clients, and additionally is available for review by contacting the firm. Please remember that different types of investments involve varying degrees of risk, and there can be no assurance that the future performance of any specific investment or investment strategy (including those undertaken or recommended by SCA), will be profitable or equal any historical performance level(s). You may download or print out a hard copy of individual pages and/or sections of the SCA website, and files made available for download, provided that you do not remove any logos or other proprietary notices. Any downloading or otherwise copying from the SCA website will not transfer title to any software or material to you. You may not reproduce (in whole or in part), transmit (by electronic means or otherwise), modify, link into or use for any public or commercial purpose the SCA website without the prior written permission of SCA. SCA maintains responsibility to review and pre-approve any content that its representatives desire to post to the SCA website, and any posted on the SCA website will be within the scope of authority granted by SCA. When you access certain links on the SCA website you may leave the SCA website. SCA does not endorse the content of such websites nor the products, services or other items offered through such websites. Any links to other sites are not intended as referrals or endorsements, but are merely provided to the users of the SCA website for convenience and informational purposes.