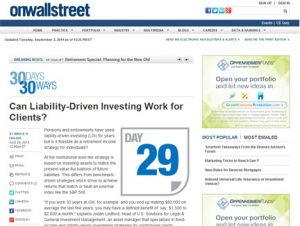 Sensenig Capital was recently featured in an article published on the website www.onwallstreet.com written by Bruce W. Fraser. The article asks the question of whether liability driven investing, which is traditionally used in pension plan management, can work for individual clients. Our firm would like to thank Mr. Bruce Fraser for the opportunity to lend our expertise to his article. Below is a excerpt:
"Pensions and endowments have used liability-driven investing (LDI) for years, but is it feasible as a retirement income strategy for individuals?
At the institutional level the strategy is based on investing assets to match the present value fluctuations of future liabilities. This differs from benchmark-driven strategies which strive to achieve returns that match or beat an external index like the S&P 500.
According to Jeremy Brenn, vice president at Sensenig Capital, an RIA in Fairview Village, Pa., this type of strategy may be more suitable at the individual level with a total return approach, which would be based on price appreciation, plus dividend and bond investment income. Rather than advisors thinking solely about how much income their clients' assets may generate, Brenn suggests they think about those assets appreciating over time as well."
To read the full article please click here.
---
About Bruce W. Fraser
Bruce W. Fraser, a freelance business and financial writer, lives in New York City. His specialties are investing, entrepreneurship, wealth management and financial planning, small business, the environment, and energy. He writes and edits articles, web content, white papers, press materials, brochures, newsletters, and books. He also consults on writing and editing. Bruce takes pride in turning complicated material into interesting, sparkling copy that people can understand.
About Jeremy Brenn
As Vice President, Jeremy Brenn is responsible for many of the firm's client relationships, as well as managing the strategic direction and wealth management process for Sensenig Capital. Jeremy earned his Bachelor of Arts degree from York College of Pennsylvania, as well as his Master of Business Administration in Finance from Hood College, Frederick, MD.
Jeremy is an active member of the Financial Planning Association, as well as the National Association on Personal Financial Advisors. He also holds the distinguished CERTIFIED FINANCIAL PLANNER™ professional designation. He has been quoted in the Philadelphia Inquirer and other personal finance related sources.
In addition, Jeremy currently serves on the Board of Directors at Meadowood Senior Living, a non-profit continuing care retirement community located in Worcester, PA. He lives in Montgomery County with his wife and three sons.